This is part of our SmartPhone Date Video Series, where Olga and I let you know about SmartPhone applications that we have used as the basis for awesome dates together.  In the video above, you'll see how we spent an afternoon at the beach taking photos with our iPhones and then an evening editing them with a few of our favorite iPhone photo apps.   It is truly incredible how far technology has come in the past handful of years that such a high-quality HD camera can be embedded in your phone.  And with the help of photo application developers, with just a few swipes someone with no photo expertise can apply filters and effects to create photos that professional photograhers would have difficulty reproducing in a dark room.  Simply amazing!   Here are links to the apps we showcase in the video above:
ColorSplash lets you quickly and easily give photos a dramatic look by converting them to black and white, while keeping your chosen details in color. This effect draws the viewers' attention to the colored areas, creating striking images. [Developer Website; $0.99 in the iTunes App store.]
FX Photo Studio turns your iPhone into a fantastic photo editing studio that allows you to mix and tune its nearly 200 filters.   There are many great camera apps, but in our opinion, this one offers the most bang for your buck by far. [Developer Website; $1.99 in the iTunes App store.]
Special FREE Offer for Datevitation Community ($39.99 value)

 –
If you want to take your photo creativity to the next level, you have to check out FX Photo Studio PRO for Mac, the newest (and most powerful) member of the FX Photo Studio Family.  Normally
$39.99 in the Mac App store
, FX Photo Studio has generously offered free copies to the Datevitation community!  To claim you free copy, just do the following:
1. Download FX Photo Studio for iPhone for $1.99
2. Edit a picture with the app and email this photo from the app to gift@macphun.com
3. Make a subject line "Datevitation"
4. And FX Photo Studio will send you a copy of FX Photo Studio PRO for Mac in return ($39.99 value)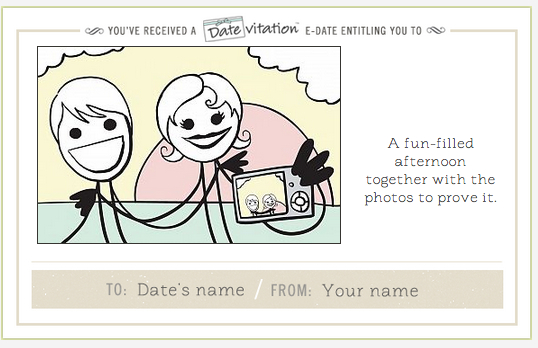 If this date sounds like your cup of tea, set the wheels in motion by sending the above invite (either as part of a custom gift book or e-date via email or Facebook).  Finally, if you enjoyed the video above, you'll definitely want to sign up for our free video series where we offer step-by-step video guides to romantic gestures that will score you some serious brownie points with your sweetie.  You can sign up at the bottom of this post.
Enjoy this post?

Then, you'll love our newsletter and FREE step-by-step video guides to 10 romantic actions you can take today to make your special someone very happy. Just enter your email and zip code below.