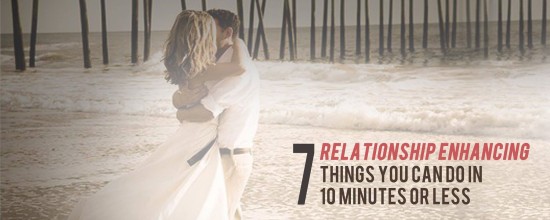 No matter which stage of a relationship you're in, there are always little things you can do to strengthen the bond between you and your partner. As we grow more comfortable together, there are small things that fade or slip our minds. Luckily, it's easy to incorporate these little but quick things that make both of you feel happier and closer.
Kiss spontaneously
Whether it's the second week or second decade together, there's something about a deep kiss with your partner that sends thrills buzzing down to your toes. The magic is even more intense when it's unexpected. Sure, a deep kiss after date night is great, but it's par for the course. A passionate lip lock while browsing the grocery aisles is a surprise that heightens the sensation of both wanting and being wanted. "Hey, honey, should we get the whole wheat or the 8-grain – mmph!" Connect with your partner and let them know that they're what you want, wherever you are, and spice up even the most mundane tasks.
Say good morning and good night
Maybe when you first started dating, nothing could knock you off your "good morning, good night" game. But as you two grew more comfortable and the fanatical texting of the honeymoon stage calmed down, the morning and night greetings found themselves phased out. Whether you live together or not, saying good morning and good night with a kiss or with a text creates an intimate bond of affection between you and your partner. You're letting them know that they are what's on your mind when you wake up and that you're thinking of them before you sleep.