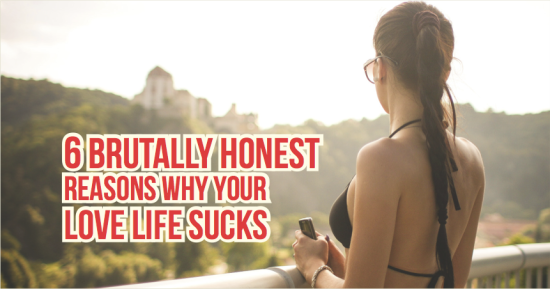 1. Not being over someone else yet
Rebounds – we've all had them. A rebound relationship can be a great (but unfair) way to move on from someone, particularly if that breakup really messed with us. However, a rebound relationship can backfire and leave you in a worse place than before on so many levels. First, you're leading on someone who might be perfectly decent, loving, and really into you. You're using an innocent for selfish means, whether it's trying to make your ex jealous, show your ex that you're "winning" by moving on so fast, or trying to soothe your own loneliness without true emotional investment. How would you feel if you found out that the person you're dating and really like is only with you to show up his ex? Maybe he even likes you as a person, not just as an end to his means, but he thinks about his ex when he takes youout to dinner, he wishes it was his ex's hand that he's holding when he holds yours, and he wants it to be her that he's falling asleep with – not you.
If you haven't gotten over someone yet, your new relationship won't be able to thrive. How could it thrive if you're constantly keeping tabs on your ex? You're kissing your new beau but your mind is fixated on the picture your ex got tagged in with someone attractive. If your body is here, but your heart is elsewhere, this relationship can't work. You've got one foot on the train but the other foot is still on the platform – decide where you want to go.
2. "Playing the game"
This is one of the most pervasive, blatant, obnoxious, destructive, annoying, stupid, and hindering aspects of dating today. Playing the game. So many pointless rules that only frustrate yourself, your potential partner, and serve no purpose. Everyone is caught up in a vain and self-defeating contest to see who can care less –if he takes X minutes to response to your text, you have to wait X+10 minutes to reply to him; you can't call her until at least two days after your date to show that you're not desperate and that you have a life; you can't double text even if you really want to talk because then you look clingy and like you have nothing better to do; you're "talking/hanging out/a thing." It's an endless contest to "win" by showing that you care less than them. And you wonder why you can't find and hold a good, strong relationship?
It's a frustrating cycle that leaves both of you dry and waiting – if you waited 10 minutes to respond, he's going to take 15, so then you take 20, and on and on – so ask yourself, what is the point? Does it really matter it you respond right away instead of staring at your phone and waiting for the minutes to pass until it's "okay" to respond? Maybe you'll actually have a real conversation with good back-and-forth if you just respond when you see his messages.Sure doesn't seem like "winning" if you're losing the opportunity to create and explore a meaningful relationship because you're busy following the rules of today's inane dating game.
Continue reading >