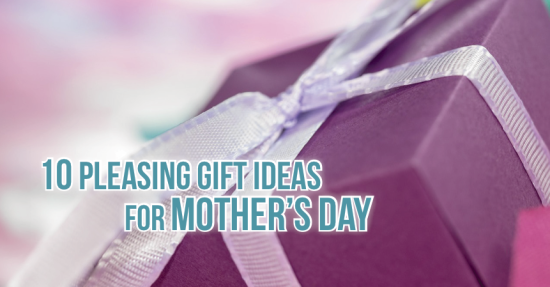 Attention, all children of mothers – and that means all of the human population – Mother's Day is coming up fast! This year, Mom's special day is on Sunday, May 10th. Before you choose a gift for the woman that lovingly attended to your soiled diapers and nobly tolerated your teenage angst, consider what kind of woman Mom is. Is she the kind of lady that insists on practical gifts, and would rather receive something she actively needs? Or is the type of woman that would love a whimsical or feminine "extra" that she couldn't justify buying for herself? Perhaps you're seeking a gift for your wife, who is now juggling two toddlers and feels like she's losing herself. Regardless, here are ten gift suggestions to cover the bases for any type of Mom.
1. A box of chocolate… soaps
A box of chocolate is a classic, albeit somewhat generic and expected, choice of gift for any occasion that focuses on a lady. This year, switch it up by giving the mom in your life a box of chocolate soaps! Many women often jokingly complain about the temptation that a whole box of chocolates presents – what will stop you from polishing off the box in a day? Luckily, chocolate soaps are a treat that she can indulge in every day. With skin-loving ingredients like olive, coconut, shea butter, cocoa butter, and sweet almond oil, these delectable soaps will make her shower time a deliciously sensory experience.
2. DIY lip balm kit
Dry lips are something that plague many of us, making lip balm a staple in a woman's handbag. Even if you are lucky enough to have naturally moisturized lips, a quick swipe of lip balm is an easy way for a busy mom on-the-go to feel more polished (handling small children in the morning doesn't allow for a full makeup routine!). But whether she's in her twenties or her sixties, the gift of customization is always appreciated. With a DIY lip balm kit, she can experiment to achieve a yummy flavor of her personal preference.
Continue reading >