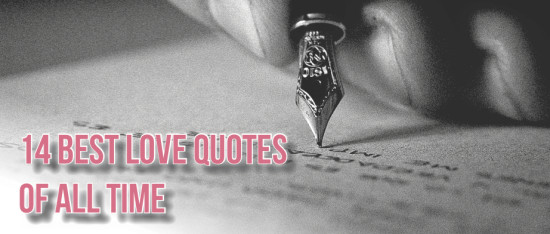 Love quotes always have a place in our lives. From the early years of Sharpie-ing cliché quotes onto our binders to the cringeworthy days of customized MySpace profiles with just-angsty-enough love quote .gifs, and from picking the perfect quote for your wedding vows to leaving a handwritten love letter on your wife's pillow, love – and the quotes about it – make the world go 'round.
Some are cloying, some are sweet, some are tender, and some are deep. Sometimes they strike as the most beautiful pair of sentences ever written, while on other days (and in other relationship statuses) they can destroy us, reducing us to a shaking pile on a tissue-strewn floor. Sometimes they fill us with the warmest sense of renewed hope and faith. Sometimes they say in a mere handful of words exactly what we, overwhelmed by our indescribable depth of love, struggled to sum up to our beloved.
Reading them as a single woman, copying one down as a husband, receiving them as a loved girlfriend, and being whispered one by the man in your life is a moment that transcends the present. You are interacting with the souls of centuries gone whose words still remain, for the deep stirring in the heart of a young man today is unchanged from the kindling of romance in a young man a thousand years ago. Gathered here are fourteen of some of history's most enduring, moving, relatable, powerful, true, and inspiring love quotes.