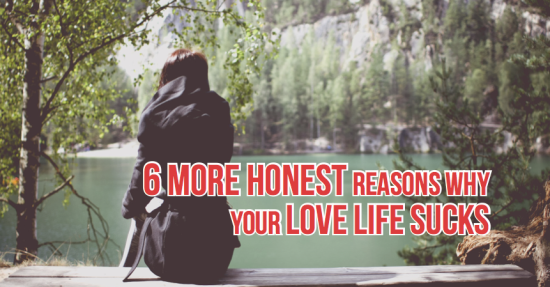 7. Complacency
Comfort is ideal; complacency is poison. Comfort is knowing that you both still love each other even after gaining holiday weight; complacency is steadily gaining without a care. Comfort is cuddling up on weekends with no makeup and ; complacency is constantly looking unkempt with no effort whatsoever. Comfort is understanding that they have to postpone your dinner date because you know they have a big, urgent account at work; complacency is indefinitely postponing dates that slowly fade out of conversation, and neither of you notice or care.
Comfort is an important and valuable part of any relationship – what an amazing thing it is tohave someone who loves you and wipes your nose even when you're sick and greasy-faced, and who agrees with you that tonight is better spent staying in with a pizza and movie marathon. But complacency robs you of romance, love, and, ultimately, the relationship. Be careful not to confuse comfort with complacency. Complacency is when you stop making efforts to improve or maintain the relationship because you're "comfortable." It's when you no longer bother to say good morning with a kiss, look good and attractive for your partner to keep the spark, or forge memories and a stronger connection with quality time. Would you be attracted to him if he never shaved and dressed like a slob all the time? Would your love remain strong if the only time you interacted with your partner was a grunt in the morning and being on your phones in the same room because "you agreed that you don't need to put on a romantic show anymore?"
Be comfortable in your relationship! Know that he still thinks you're beautiful when you wake up on a Sunday morning. But don't take advantage of your partner's love and acceptance and stop trying to impress them or make them feel special, adored, and worth making an effort for. Never stop dating your partner.
8. Falling in love with the idea, not the person
There are too many relationships based on this mistaken case of identity – someone falls in love with the idea of the relationship, not the actual person. You don't love him – you love the feeling of getting roses sent to your office. You don't love him for his personality – you love the presence of his name next to "in a relationship with" on your profile. You don't love the time you spend together – you love the pictures of you as a couple that get you likes and sweet comments on social media.
Pinterest is filled with dream wedding boards that belong to women who have every detail and aspect of their wedding planned and ready to go – all that's missing is the man. Andthey are often the type of woman that joyfully dives into a new relationship with lots of social media updates and texts to her friends about the cute story of how he asked her to be official. There's not much said about the actual man and their true connection, but there's a lot said about his romantic gestures and her hopes for future romantic endeavors. Examine your relationship and be honest with yourself. Are you here for the idea or the person?
Continue reading >