This post originally appeared as a guest post on FitMarriage.com, a fantastic site aimed at encouraing couples to get fit and improve their relationship in the process.   It is part of our regular SmartPhone Date series here on the Datevitation blog as well, where Olga and I let you know about our favorite smartphone apps which we use to have fun dates together.
Today, we are excited to tell you about one of our favorite apps, Runkeeper, which helps motivate us to stay fit and healthy.  Olga and I are both entrepreneurs running our own start-up companies with a 3-year old in tow. Our schedule makes it incredibly challenging to find the time to stay fit and take care of our bodies.  But we know from experience that when we do make the time to be active and workout, we have more energy and feel great which obviously has a tremendously positive impact on our relationship. Over the course of the past year, we have noticed two things that have helped improve our fitness and relationship simultaneously.
First, when possible, we try to find ways to work out together. That way we are killing two birds with one stone: We're spending quality time together and getting fit in the process. We often go for hikes, jogs, and yoga class together.
Second, we have found that the more fun and interesting we can make getting fit, the more we are inclined to find the time to work out. In doing so, we stumbled across a Smartphone application called RunKeeper, which makes it incredibly fun and easy to track your workouts.
Although most people use RunKeeper to track their runs, the GPS technology in the app lets you track just about any activity – from cycling to hiking to skiing. And when you are done with the activity, RunKeeper gives you detailed stats, including distance covered, elapsed time, pace, and calories burned. You also get a nifty map showing the exact route you covered. Best of all, it is completely free and available for all the major Smartphone brands.
In the video above, you'll see how Olga and I used the app to track our runs along the beach during a recent trip to Hawaii. It really did make the runs a lot of fun, and we enjoyed looking back at the end of our trip to see all that we had accomplished.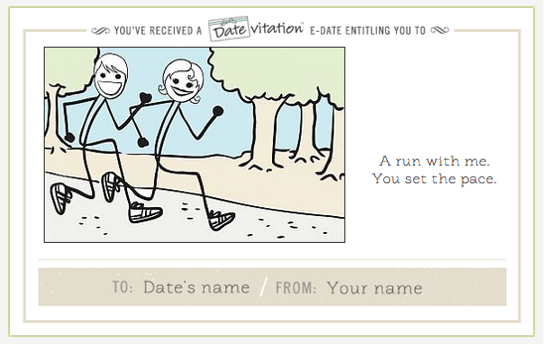 Thanks again for watching our video, and be sure to download the RunKeeper app and let us know how you like it in the comments below.   Make a commitment to work out together today by sending your sweetie an invitation to work out, either by including it in a custom Datevitation gift book or by sending an electronic e-date via email or Facebook using our e-date platform.
Enjoy this post?

Then, you'll love our newsletter and FREE step-by-step video guides to 10 romantic actions you can take today to make your special someone very happy. Just enter your email and zip code below.
12/06/2012