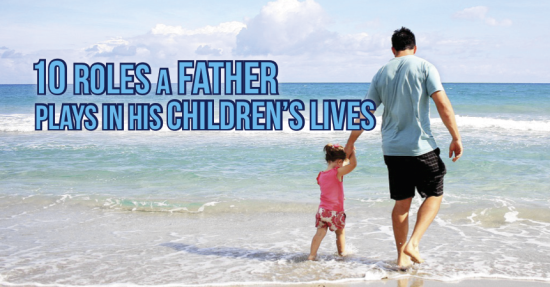 1. Protector
From the moment you're born, your father is one of your biggest reassurances. He held you in his strong arms, looking at the new life he helped create, and vowed to always you. A father's sense of protection for his child is incomparable. He does whatever he can to keep his child from physical harm and mental pain. His heart was probably pounding harder than yours when he let go of the bike from behind, telling the white liethat he was still holding on, but he was always right there, ready to catch you and hold you if you fell. And he's been in that same position your whole life.
Watching you grow and face the challenges of life, his heart broke with yours whenever you were hurt. When you were a young person with a silly curfew, a newly minted driver's license, and boyfriends got the shotgun talk, the constant lectures and worried reminders probably got tiresome. But no matter how much you grew, your dad always saw that little child that liked to climb on his back for piggyback rides and shout for Daddy when they were scared. There's no protection on Earth like that of a father's.
2. Nurturer
He may have been clumsy at times, but Dad was always there to nurture you. When he knew Mom needed her rest, he was the one that climbed out of bed at 2 AM to go comfort you. He took you to the park on Sunday afternoons and was there to pick you up and kiss the boo-boo when you fell off the monkey bars. He patiently let you put a pink scarf on him and happily accepted your stuffed animal tea party invitations, assuring you that your tea was the best he's ever had. When you presented him with an abstract smattering of paint, he listened intently as you described how that smudge of paint was him and how that dot of paint was a car, telling you what a good job you'd done. He let you take over story time with your long, epic tales of aliens, puppies, princesses, and chocolate airplanes to encourage your imagination and confidence. Dad was there your whole life to build you up in a strong, happy person.

3. Friend
Many of us might have had a not-so-friendly rough patch in our parental relationships during our time of adolescent angst, but we definitely came to appreciate our fathers when we grew up. We began to see them as real human adults with personalities beyond being the chore master and man who didn't let you borrow the car. We began to see them asour friend. Your dad has so many hilarious tales to share with you over a beer or glass of wine (now that you're old enough to hear them). When you stop seeing him as the dude that made you come home at 11 PM from the party, you can start to enjoy his presence as being the party. Your dad can become one of your best friends when you've matured. Whereas once you delighted in keeping secrets from him, he'll be one of the first people you confide in as an adult with your problems and triumphs.
4. Cheerleader
He never missed a single soccer game. He sat by you when you were frustrated with that Chopin piece and told you that practice makes perfect. When you nailed it at the recital, he was the loudest member of the audience. When your volleyball team had a chance of making it to state, he drove you to all the extra early morning and late night practices, making sure he had a snack in the car to refuel you. When the team made it, he made sure to wake you up on time for the longdrive to championships. You always heard him shouting your name with pride from the stands. You were nervous about finding your first job after college. The rejections were piling up. He kept you going, reminding you of your talents and worth. And you'll never forget the celebratory dinner he took you out for when you got that offer letter.
5. Teacher
He was the one that taught you how to transition from Velcro straps to genuine shoelaces, patiently guiding you each time you forgot which way the bunny's ears had to go. Tempers may have flared at times, but he did teach you how to merge lanes and successfully parallel park (and risked his life doing it). When you entered adulthood, he taught you how to properly file your taxes. Dad taught you so many lessons as you grew up. Whenever you have a question, you know that you can turn to your father for a good answer.
6. Mentor
Along with being a teacher, Dad was also a mentor. He's lived a good life with victories and mistakes. He learned from his errors and tried to keep you from making the same ones. He gave you advice, comfort, and words of wisdom when you made your own mistakes. He supported you and encouraged you to walk through life on a decent, honest, and kind path. You've admired his work ethic and commitment to family your whole life, and you've learned to be a respectable, honorable person from his words and his actions.
7. Playmate
Dads are famous for being their children's playmate. All kids have probably felt the camaraderie that comes from giggling "don't tell Mom!" together as Dad sneaks them all ice cream bars before dinner. Dads have the stature and strength to let kids use their bodies as playgrounds – who didn't love to climb on their dad's shoulders, hang from his arms, and wrap themselves around his leg as he walked around? Dads are almost always ready to horse around with their kids, creating that special bond that a child only has with their father.
8. Disciplinarian
"Just wait till your father gets home!" The classic line that strikes fear in children's hearts. Many children get used to Mom's presence from being with her all day, and see Dad's presence as a special evening treat. No kid wants to mar that time with Dad by bringing him shame and disappointment. Because most kids are usually with their moms from morning until night, they get desensitized to whatever nagging and threats come from her. But Dad? Oh man. That means business and you know you done wrong. Fathers play an important role in his child's life, teaching them right from wrong and helping develop their moral compass. We all needed Dad's stern stare, firm words, yet loving determination to steer us on the right path as we grew up.
9. Good Example
The apple doesn't fall far from the tree. That old saying often proves true when you compare the people you know to their parents. A person is molded by both environment and genetics, and fathers play a huge role in the former category. A good father will be a person that his children look up to and are shaped by. He has a sense of humor, is kind, and righteous. He pays his taxes and follows the law. He speaks with charisma, graciousness, and understanding of others. He demonstrates an appreciation for a glass of wine at dinner and a beer on the weekends. He remembers birthdays and shows great love and thought in his presents. He shows his children how a man handles life's stresses and turmoil appropriately. A father shows his children many things that can be summed up as this – how to be a good person.
10. Model Husband
A father plays an integral role in his family's happiness. However, this happiness does not extend to the short two decades that a child will live with him under his roof. For sons, he is the model of how a man treats his lady. He shows his sons how a husband should love, respect, treat, understand, and be a partner to his wife. For daughters, a father is the example that will forever be engrained in her memory as how she should be treated by her future partner. She will compare her future boyfriends and husband to good old Dad – does this guy show me the respect, affection, and kindness that Dad shows Mom?
Walking her down the aisle is not the only time a father leads his daughter to her husband; his example has been leading her taste in men her whole life. A father sets the standard for what a husband should be. He shows his children, through how he treats their mother, what it means to have a successful, happy, fruitful marriage.

6/10/2015