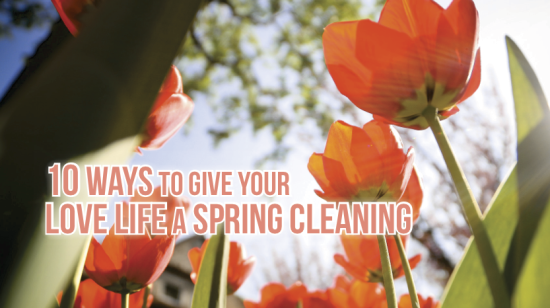 Ah, springtime – the quintessential time to get in sync with nature's warm and sunny renewal and revamp your own environment. It's refreshing and revitalizing to raid your closet, haul out a pile of clothes to sell or donate, and use the freed-up space and money to buy items that reflect the new you. It's a satisfying breath of fresh air to snap on the gloves, grab the Swiffer and Clorox wipes, and give your place a deep cleaning. Why stop at merely revamping your physical surroundings? Give your love life a spring cleaning! What's the point of basking in your freshly washed sheets if you're dripping mascara tears onto your pillow? Sweep away the insecurities and take the emotional trash to the curb for a fresh start this spring!
1. Snap on the metaphorical gloves and assess the situation
It's the difference between doing your makeup looking into a dimly-lit, steamed-up, grime-smeared bathroom mirror and a clean, polished, well-lit mirror. When you're using a grimy mirror where you can only see the vague outline of your features, you think everything is okay. It's only when you're shocked by the clarity of a clean mirror that you see your unblended concealer, patches of missing foundation, and mismatched eyeliner wings. Much like wiping your mirror clean, wipe away the grime from the lens with which you view your love life.
2. Assess the situation and mess
Be honest. Some aspects will be like grime that's tough to remove, and you'll try to deny things or validate them. But it's springtime, baby, so put on some cleaning gloves and face the dirty facts. You can't shove things under the bed or throw things in the closet and claim cleanliness any longer. You can't say, "Well, I'm a big girl, I can handle a certain degree of a-holery" or "I've always liked the bad boys, it's just my type, so I can deal with them." Really be honest with yourself. You can't improve or achieve the full potential of a rewarding, satisfying love life if you have dirty dishes and trash piled up everywhere and say, "Oh, it's okay, I'm used to this, so this is fine for me." Uh-uh, honey. Do you settle for guys that don't treat you well because you grew up watching your mom tolerate a subpar husband, so you've internalized that as normal? Do you stick with deadbeat boyfriends because hey, it's better than being single?
Continue reading >