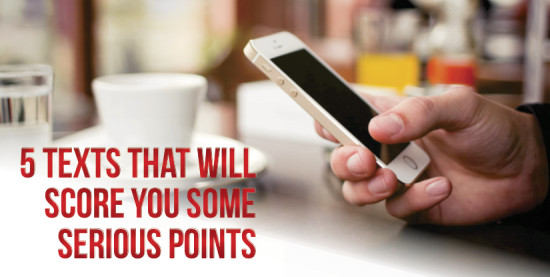 "Good morning, beautiful."
This one applies more if you're still living apart and haven't moved in together yet, but it also goes for couples who do live together if one of you goes out of town. Remember the fluttery feeling you got when you first saw that text in the early days of the relationship? "Wow, there's now someone who thinks of me as soon as they wake up. I make their day better." It's a short text, but it is sweet and touching in what is implicit: When I wake up, I think of you, and that makes me happy.
"Hey, I know you've had a long day. Don't worry about cleaning up tonight, it's done."
This text is seemingly more practical than lovey-dovey, but it can also be extremely romantic. As lovely and breathtaking as a blooming bouquet of fresh flowers can be, sometimes, it feels more moving to the beneficiary when they're surprised with a clean house and a pantry full of washed and dried dishes. When life is doing what life tends to do and has you feeling a bit frazzled and overwhelmed, there is no gift more welcome than having things crossed off your to-do list for you. Folded laundry? Why, you shouldn't have.
"Recorded the game for you. Beer's in the fridge. Enjoy!"
Take note of what your partner likes and try to incorporate those things into what you do for each other. Do you know that he forgot to set the recording for the game before he left for work, and you have some time to spare in your lunch break? Go home and set it up for him, and stock up his favorite beverage, to boot. Let your partner know that you notice what makes them happy, and then go further and show them that you want to make them happy. Did she work overtime and is she exhausted on the drive home? "Bubble bath will be ready in 15 minutes. Dark chocolate is also standing by." True love.