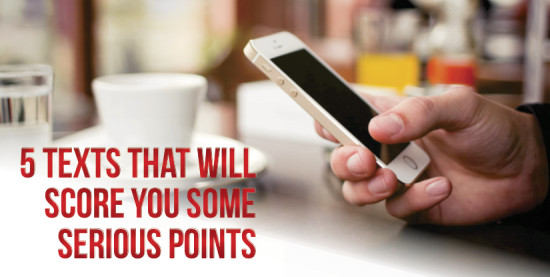 "Good morning, beautiful."
This one applies more if you're still living apart and haven't moved in together yet, but it also goes for couples who do live together if one of you goes out of town. Remember the fluttery feeling you got when you first saw that text in the early days of the relationship? "Wow, there's now someone who thinks of me as soon as they wake up. I make their day better." It's a short text, but it is sweet and touching in what is implicit: When I wake up, I think of you, and that makes me happy.
"Hey, I know you've had a long day. Don't worry about cleaning up tonight, it's done."
This text is seemingly more practical than lovey-dovey, but it can also be extremely romantic. As lovely and breathtaking as a blooming bouquet of fresh flowers can be, sometimes, it feels more moving to the beneficiary when they're surprised with a clean house and a pantry full of washed and dried dishes. When life is doing what life tends to do and has you feeling a bit frazzled and overwhelmed, there is no gift more welcome than having things crossed off your to-do list for you. Folded laundry? Why, you shouldn't have.
"Recorded the game for you. Beer's in the fridge. Enjoy!"
Take note of what your partner likes and try to incorporate those things into what you do for each other. Do you know that he forgot to set the recording for the game before he left for work, and you have some time to spare in your lunch break? Go home and set it up for him, and stock up his favorite beverage, to boot. Let your partner know that you notice what makes them happy, and then go further and show them that you want to make them happy. Did she work overtime and is she exhausted on the drive home? "Bubble bath will be ready in 15 minutes. Dark chocolate is also standing by." True love.
"I'm sorry about what happened this morning. Thinking about it, I realize that I was in the wrong and understand why you're upset. Can you forgive me?"
It rarely feels good to say that you're sorry, and particularly so when it was in an argument that wasn't open-and-shut. However, no matter how much it hurts our pride, and no matter how you might argue that they too had some fault in the issue, when you know you messed up, own up to it. It sours the relationship and amps up tension when you drag it out or focus on what small ways they contributed to the matter. Don't waste time and negative energy on a tense week of being on edge around each other. With trivial issues, just apologize, forgive, and move on.
"Hi, handsome. Thinking about you and counting down the hours until we come home tonight."
The classic thinking about you text – so generous in its appearances during the passionate beginning of a relationship, and so easily forgotten as time goes on. During the initial blaze of a new love, you know you're always thinking about each other. Cute emails, flirty texts, sly and discreet lunch hour phone calls abound. Then, as your love settles into a comfortable, steady flame, there grows a conspicuous absence of affectionate reminders that we're on each other's minds. Not only that, but the average temperature of our texts cool down. Infuse affection back into your messages and reignite the heat at the same time with this text. Remind him that you find him so attractive that you can't wait to get home to see him. Make sure that she still knows how irresistible she is to you, even after all this time.
What kinds of texts have scored you the most points?
Enjoy this post?

Then, you'll love our newsletter and FREE step-by-step video guides to 10 romantic actions you can take today to make your special someone very happy. Just enter your email and zip code below.